What customers have to say about stacool vests
"I have MS, I got the cooling vest yesterday, hydrated the packs used it today, and my life has already changed. In 100-year historic Wisconsin heat, I walked many blocks to a restaurant and immediately felt so much less sick than I usually would have braving the heat. Thank you, Stacool. Also a big thank you to Sylvia who helped answer all my questions and size me correctly."
"Thank you again for all of your help! The vest arrived in time and helped make Emily's wish possible. Thank you."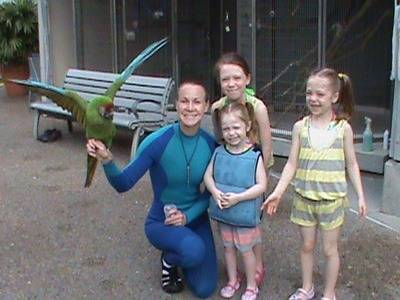 SANDY ANDERSON, MOTHER OF EMILY
"I love the new [StaCool] cooling vest the MSF sent me. Thank you, thank you, and thank you! It was a lifesaver for this year's bike tour. We had record-breaking highs of 103 degrees on Saturday and 105 degrees on Sunday. Both days I arranged to have someone bring my cooling vest to the lunch stop.
Regardless of the hot weather, we had a blast. I even made it a little further this year. I rode 140 miles, 70 each day. I think this is the best shape I have been in since being diagnosed with MS back in 1997."
"I FINALLY got to use my vest this morning! I wanted to wait until my Sundays with Jarvis. When you read the blog that will make sense. HOLY COW!!! I LOVE IT! Thanks. I wrote about it in today's blog. Check it out tracesherer.blogspot.com. I have a friend who is doing an Iron Man in Idaho as I write this as well as several others at my gym that are awaiting my report. It will be glowing! THANKS AGAIN."
"I have recently tried the vest on two different occasions. It worked great. I noticed a major difference in the way I felt while wearing it. The vest truly functions as advertised. Thank you for providing such a useful product for use by people living with Multiple Sclerosis."
"I just received a vest for my 5-year-old child who is unable to sweat. First, let me say thank you for making this product. He was able to go and play outside with the rest of the children. He loved it!"
"I just wanted you to know that I LOVE my vest. I just learned to ride a motorcycle but since I have Multiple Sclerosis I am very limited due to the heat. Now with my vest, I can ride all day and never have to worry about getting hot. Thanks for having such a great product."

"I wanted to let you know that I am a Multiple Sclerosis patient. I ordered a vest from your company a little over a year and a half ago. Because of it, I can go to baseball games again! Places that were once too hot for me to be in, are now fine. The vest is easy to maintain, and many people ask me about it because I'm the only one in the stands not sweating! Thanks so much for developing this product specifically for people like me; it's a real lifesaver."

"I am a 38-year-old male who has Multiple Sclerosis. My symptoms are greatly influenced by my core body temperature. I recently attended a NASCAR race in Miami, Fla., where temperatures are usually well above normal. Thanks to the StaCool Under Vest I was able to maintain a cooler than normal body temperature and enjoyed my entire weekend."

"I wanted to say THANK YOU for my new StaCool Vest. I have Multiple Sclerosis and live in Tucson, Ariz. Yesterday it got up to 110°F and it was very humid. I was able to do some yard work with my vest on. I work as a special education teacher's aid, and we go outside with the kids at lunch; so I will be using my vest on the job, too. No more worries about being able to do my job."

"Thank you so much for creating such a wonderful product. I have been able to have greater mobility and my children have benefited greatly. Thank you."

"The cooling effect lasted over three and a half hours... we cooled down quickly and stayed cool long after we took the StaCool Vest off."