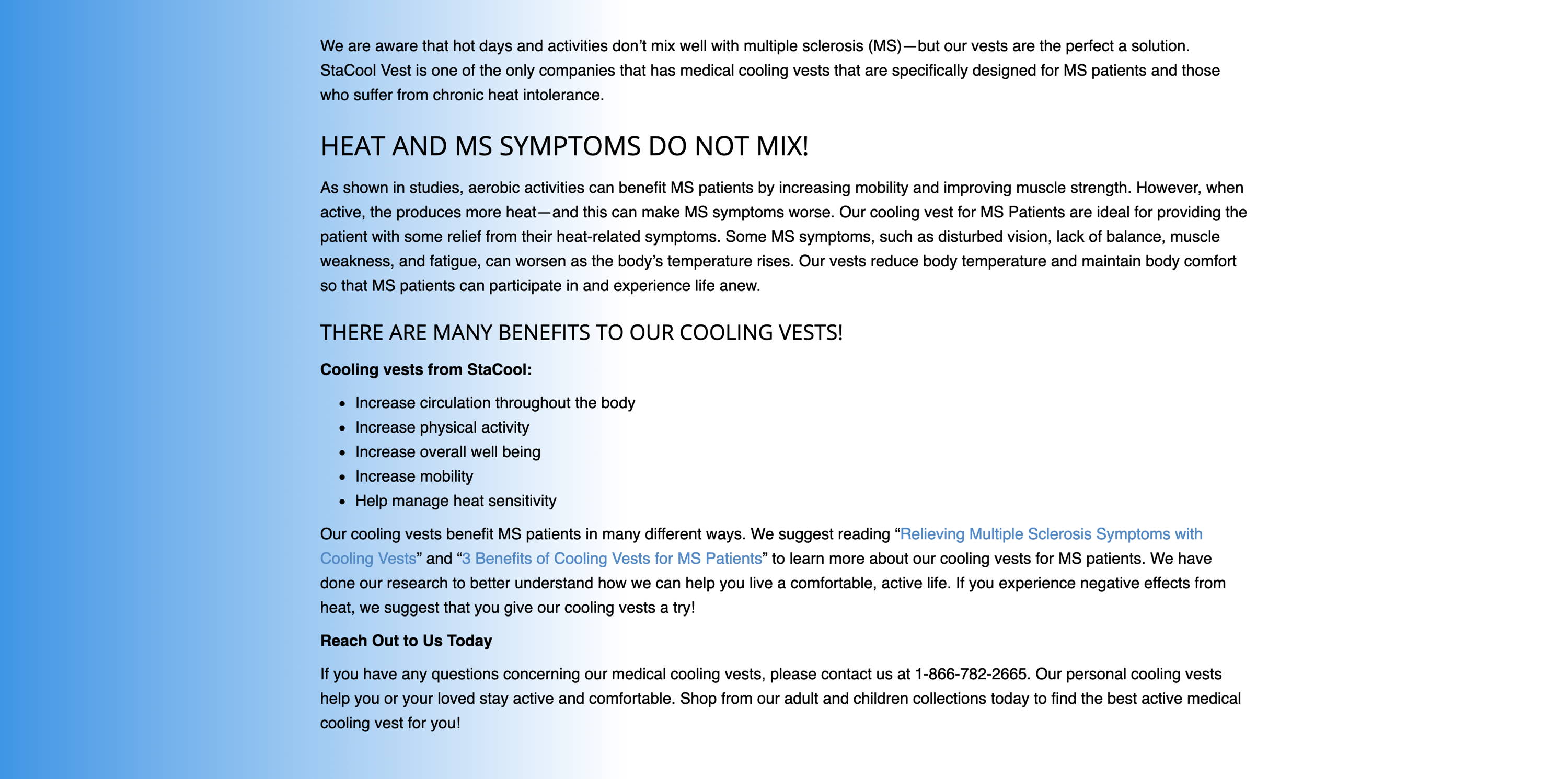 personal & medical cooling vests
PERSONAL & MEDICAL COOLING VESTS
We are aware that hot days and activities don't mix well with multiple sclerosis (MS)—but our vests are the perfect a solution. StaCool Vest is one of the only companies that has medical cooling vests that are specifically designed for MS patients and those who suffer from chronic heat intolerance.
HEAT AND MS SYMPTOMS DO NOT MIX!
As shown in studies, aerobic activities can benefit MS patients by increasing mobility and improving muscle strength. However, when active, the produces more heat—and this can make MS symptoms worse. Our cooling vest for MS Patients are ideal for providing the patient with some relief from their heat-related symptoms. Some MS symptoms, such as disturbed vision, lack of balance, muscle weakness, and fatigue, can worsen as the body's temperature rises. Our vests reduce body temperature and maintain body comfort so that MS patients can participate in and experience life anew.
THERE ARE MANY BENEFITS TO OUR COOLING VESTS!
Cooling vests from StaCool:
Increase circulation throughout the body
Increase physical activity
Increase overall well being
Increase mobility
Help manage heat sensitivity
Our cooling vests benefit MS patients in many different ways. We suggest reading "Relieving Multiple Sclerosis Symptoms with Cooling Vests" and "3 Benefits of Cooling Vests for MS Patients" to learn more about our cooling vests for MS patients. We have done our research to better understand how we can help you live a comfortable, active life. If you experience negative effects from heat, we suggest that you give our cooling vests a try!

Reach Out to Us Today
If you have any questions concerning our medical cooling vests, please contact us at 1-866-782-2665. Our personal cooling vests help you or your loved stay active and comfortable. Shop from our adult and children collections today to find the best active medical cooling vest for you!